Iconic Places to Visit in Marrakesh, Morocco
Marrakech is one of the most visited cities in Morocco. It has been on my list for many years, but I could never find the right time to go. This wasn't a place I was going to try to do solo and I knew i wanted to go with someone who has been there before. Finally this year a friend of mine was going back home to Marrakech for the summer and asked if I wanted to visit him while he's there so he could take me around. I booked my tickets immediately and started planning my list of places to visit.
Below you will have a list places I visited during my trip to Marrakesh. I personally look for architecture, design and cultural experiences when I travel. I hope you enjoy this list as much as I did.
Ben Youssef Madrasa
This was the largest Islamic College in Morrocco and now a beautiful historic site with stunning architecture and design. Unfortunately, this was closed for construction when I was in Marrakesh so I didn't get to visit.
Jardin Majorelle/Musee Yves Saint Laurent
I am combining these two places together because they are adjacent to each other on the same street, and I believe you can get a discount if you buy tickets to both places together. Yves Saint Laurent and Pierre Bergé bought the Jardin Majorelle in 1980 and saved it from falling victim to a real estate project and becoming a hotel complex. It served as an inspiration for many of his creations.
I suggest going to visit Jardin Majorelle as it get very crowded fairly quickly. If you're looking to get a clean shot of the house, you'll have to go right when they open. The YSL Museum has a steady flow throughout the museum and the main photo moment is the one by the entrance.
Marrakech Souks
Souks are the traditional marketplaces and are often divided into sections for the various trades. You'll see herbalists, spice sellers, metal workers, tanners, and food markets congregated on trade-specific streets. Jemaa el-Fnaa is the main town center and entrance to all the shops and alley ways. I would highly suggest going with a local that knows the area well to help you navigate the souks in Marrakech. I've heard very mixed experiences from my friends about their experience being at the souk, but ultimate if you stand out like a tourist, you become a target for many things, just keep that in mind.

Royal Mansour
You've seen this place everywhere on instagram and it is truly a stunning hotel that is worthy of a visit. Designed by King Mohammed VI with the idea of a "Médina within a Médina". For the experience of living like a King, this is a must in Marrakech. The photo here you see is actually the spa of the hotel. It has been posted tirelessly by everyone on instagram, but it is truly stunning and other worldly in person.
La Mamounia
La Mamounia, another one of the most iconic hotels in Marrakech. They had this section of the hotel closed off for hotel guests only, so if you plan to get a shot here, you'll need to be a guest of the hotel. I'm sure it's due to the popularity of it being a photo spot, so plan accordingly. I had food inside the hotel and I wasn't that impressed by the food. The inside of the hotel is actually really dark with jewel tones, completely different than this photo I took, which can be a bit misleading. However, it is one of the most iconic hotels in Marrakesh. I would say if you have to pick a place to visit between this and Royal Mansour, I would go to Royal Mansour.
Kasbah Tamadot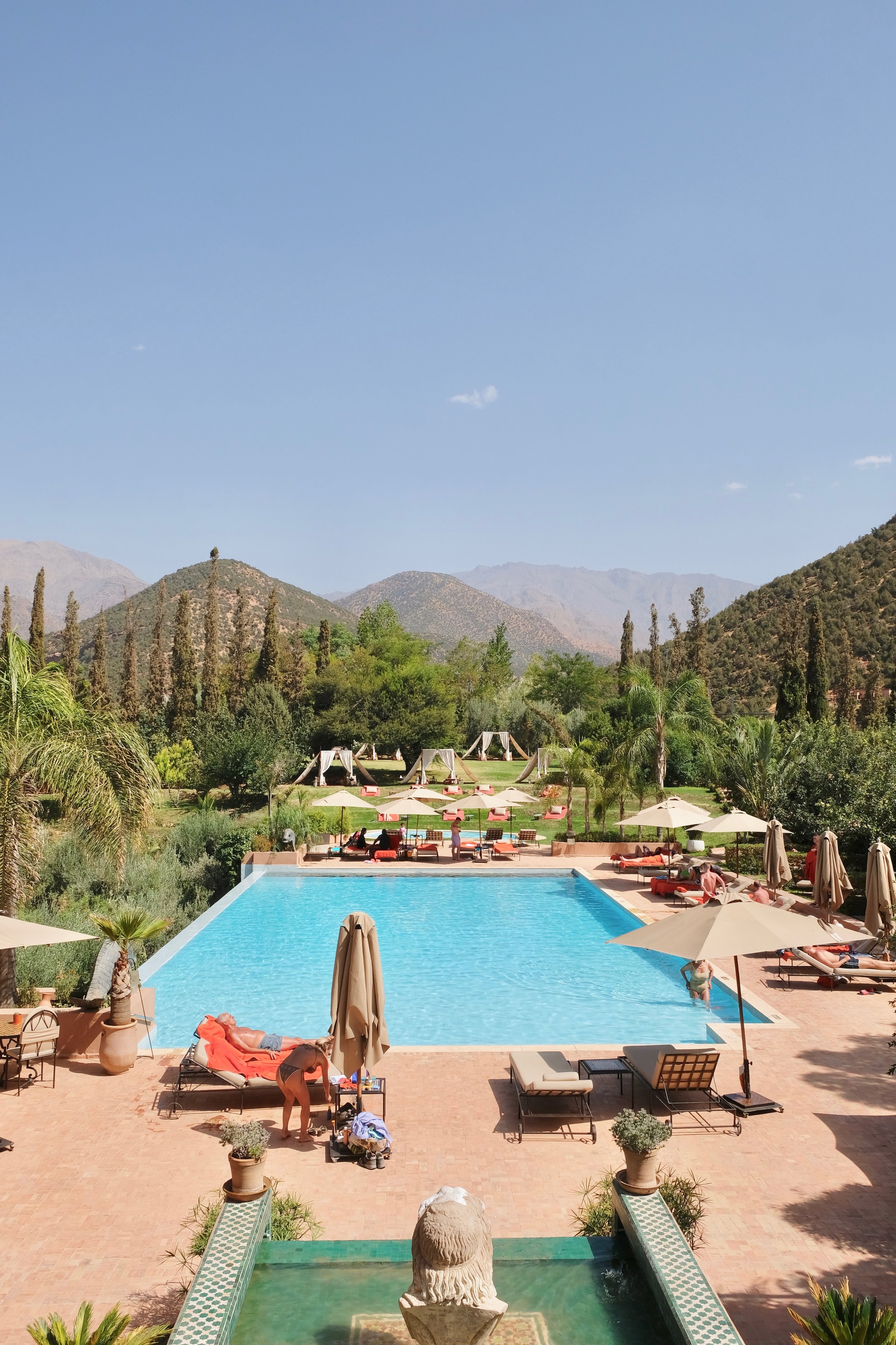 Tucked in the Atlas Mountains in Morocco. Richard Branson's Kasbah Tamadot Resort is about 27 miles outside of Marrakech. For those looking to be surrounded by nature away from the city. This is your spot. One of the most impressive resorts I've been to. If you're planning for a first trip to Morocco, I would say don't stay here, just visit, because it is close to an hour out side of Marrakech, so unless you have a driver that will drive you up and down the Atlas Mountains, this is more for a visit where you want to stay on property for your entire stay.
Four Seasons Marrakesh
An urban oasis in the heart of Marrakesh. The location of the resort is perfect and close to all the major attractions of the Red City. The resort has two large pools, one of them is adults only, which is always a definite must for me when traveling to popular destinations. You can expect the same type of service and hospitality you get from Four Seasons, but do take time to explore the majestic grounds and have one of your dinners at the main restaurant here. The food is incredible. I stayed at a patio suite with a private pool, which I definitely took advantage of throughout my entire stay. The staff is incredibly attentive as you would expect and the spa is beautifully designed as well.
I would definitely stay here again and I highly recommend booking here if this is your first time visiting or coming back for a special occasion. I couldn't stop talking about my stay for weeks after I left. Staying here really made my trip extra special.